Commander Legends releases on Friday, November 20th, and there are bargains to be had… if you know where to look. Kristen takes us through the cream of the budget crop, including her picks for the best budget Commanders from the set.
My long-running Budget Blitz column sees another entry with Commander Legends. Every quarter, I review the latest Standard set and make my recommendations for cards to pick up. The series is aimed mainly at budget-conscious players, and so ignores the obvious high ticket items like Scroll Rack, and tries to enable players to make confident low-end purchases that will have a big impact on their deck-building.
Budget Blitz: Commander Legends
For a set as large and as stacked with great cards as Commander Legends, it's tough to really keep things in the usual categories: $5 and under, and $1 and under. Instead, I'm going to break tradition and include a few cards over $5 that are good to keep an eye on.
Wheel of Misfortune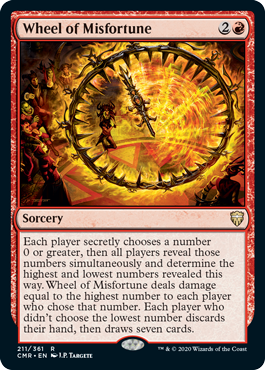 The first of these cards is Wheel of Misfortune. Though red has gotten a lot of good impulse draw recently, the classic "wheel" effect is hard to replace, and it's still a great asset to many red decks. With Wheel of Fortune on the reserved list and fetching quite the pretty penny, I see Wheel of Misfortune as an excellent pick-up to really bolster your draw package.
Whether you're adding it to a dedicated Wheel deck like Brallin, Skyshark Rider // Shabraz, the Skyshark, The Locust God, or Rielle, the Everwise, or just to help your Boros or mono-red deck draw a fresh hand, it's a slam dunk, especially if you don't have access to Wheel of Fortune. I know I'll be testing it in place of Reforge the Soul. Or maybe… both?
The Rare Lands
All the rare lands in Commander Legends are fantastic, and I'd consider all of them bargains right now. Lands are forever useful, can be ported between decks, and are one the card types in Magic that always seem to be tradeable for other cards.
Command Beacon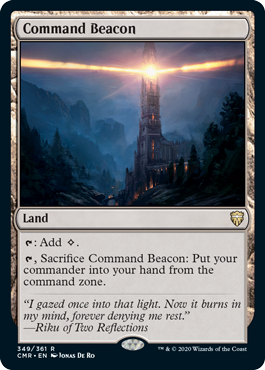 Command Beacon has sat strong outside of most player's budget for a while now, and it's great to see this card drop back down again. More than just being potentially the best card in Phage the Untouchable, Command Beacon allows many commanders with high tax an opportunity to be cast extra times. If you're in a lands-matter build? Well, it's even easier to keep reaping that reward. It's now a pretty affordable $5.99 on pre-order, which is a steal.
War Room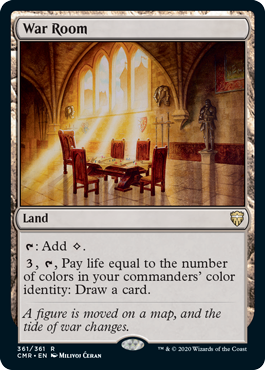 War Room is a monster pick-up for mono-colored decks everywhere. If you're a fan of playing with twenty-six or more matching basics, you'll be hard pressed to find a better, easier-to-trigger source of card draw in your mana base. Mono-white in particular will love this card, but really, it's fantastic in most mono-colored decks, and even in some two-color decks that have a lifegain subtheme.
The Enemy Battlebond Lands
To round things out, the enemy-color "Battlebond" lands should be at the top of your list. While the allied colors get many more options for untapped dual-color lands, they still like to run these, and so the prices on the original Battlebond ones has crept up since that set's release. In fact, it crept up enough to see them reprinted as Zendikar Rising Expeditions.
It seems safe to say that these lands will be an absolute hit, and it might be a good idea to get a few while they're available for low prices. All of the cards mentioned thus far are at the high end of budget, but they're also great value, and cards that even budget-conscious players will want to keep on their radar.
Budget Blitz: Five Dollar Shake
Now's where we get into it proper, with my round-up of the best cards from $2-5. Chances are you're not ordering your morning coffee to go at the moment, so why not grab a couple bargains instead?
The cards in this section — and this article in general, really — aim to be as versatile and non-linear as possible. So, if you see me missing a particularly niche card for a certain strategy, then chances are it's because it doesn't meet those criteria; budget cards should be as flexible as possible.
Thought Vessel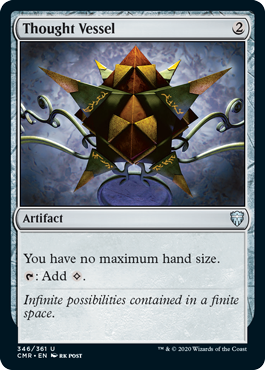 The first card up is Thought Vessel, and it's a card that's been in desperate need of a reprint. This is due to the prevalence of "ramp on two" strategies in higher stakes games, and the fact that granting no maximum hand size is a desirable effect. After hovering around $8-10 for the past year or so, you can now grab a Commander Legends Thought Vessel for $2.49. Sweet!
Three Visits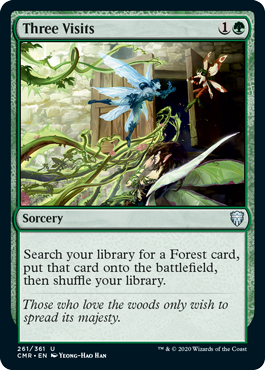 Speaking of ramp on two that has been crying out for a reprint, Three Visits is a solid pick-up here. The older Portal: Three Kingdoms printing has a market price of around $100, and thanks to increased play at higher levels of Commander where holding up mana is increasingly important, picking up a reprinted Three Visits is a windmill slam at only $3.99.
Shimmer Myr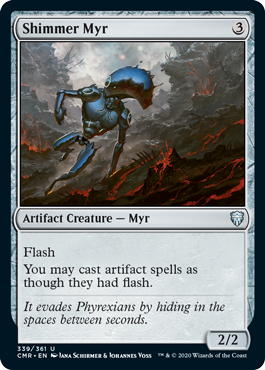 Next up, Shimmer Myr sees its first reprint outside of a precon, dropping the price to $1.99. Shimmer Myr is a staple in artifact builds, operating, for the most part, as a cheaper copy of Vedalken Orrery or Leyline of Anticipation.

Whether you want to try out a new artifact build with Silas Renn, Seeker Adept and Rebbec, Architect of Ascension, or you just want to add one to the budget Jhoira, Weatherlight Captain storm deck you've been putting together with the great reprints in Double Masters, Shimmer Myr is a great pick.
Blasphemous Act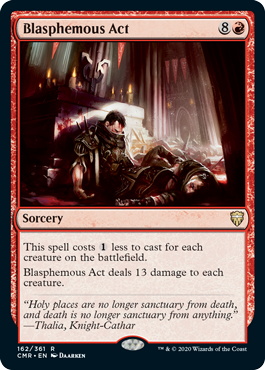 I'm overjoyed to see what many dub "the best board wipe in Commander" down under $2. You can't keep this card down! Even with a reprint in Double Masters, it was still sitting around $4-5. Blasphemous Act commands such a price because of how efficient it is. You'll often be able to clear the table with one mana, before taking the rest of the turn to rebuild. I'll always recommend this board wipe.
Akroma's Will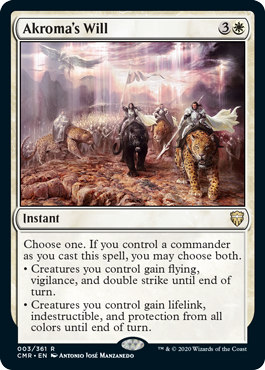 Akroma's Will is one of the best white cards we've seen for a long time, and it's a bargain at $2.49. With the option to use this as either a way to push damage through or as a way to protect your board, it's the modal protection spell white didn't know it needed.

I love that this can be grabbed from Sunforger, and I also love how it can offer so much value when your commander is in play. The second mode basically reads "unblockable", too — remember that protection means opposing creatures can't block creatures with protection from that color. You can still find the way barred by a Wurmcoil Engine, though, so be sure to have some evasion against artifact-based decks.
Budget Blitz: Cheapest of the Cheap
Now let's get into the real budget gems. The following cards are all pre-selling for less than a dollar, and can still do a lot of work in your Commander decks.
Amphin Mutineer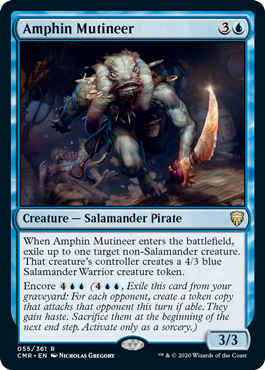 The first card on this list is Amphin Mutineer. This is basically blue's Ravenous Chupacabra, and it can do a lot of work when built around properly. Flicker and recursion-based decks will love it, and even Clone decks can find a lot of use for this tricky customer. The encore? Gravy.
Coercive Recruiter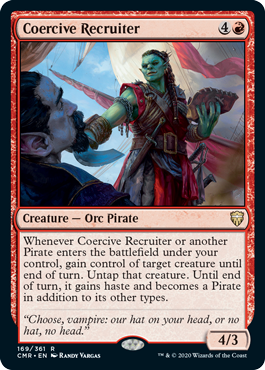 Coercive Recruiter is a fun addition to the plethora of cards that work great with Splinter Twin, and this one's a really fun one. After the first time you copy the Recruiter, each subsequent copy will trigger and give one additional "threaten" effect per loop. Though one Recruiter trigger always has to untap the one you tapped with Splinter Twin equipped, the rest of the triggers can steal other things.
So, not only can you make a huge army, you can also steal away all of your opponent's blockers while doing so.
Armored Skyhunter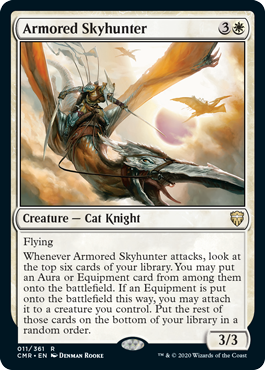 This is probably the best budget pick-up for Voltron strategies. Repeatable card advantage with the ability to cheat equip costs, this cat knight is well served to take pride of place in these decks — not least because it also comes with evasion.
Mask of Memory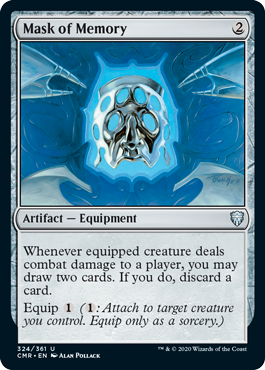 If you're looking for the best card draw in mono-white or Boros, you've come to the right place. Mask of Memory is deceptively good. Sticking this on some evasive creatures will give you two cards per turn extra, and with double strike? You're seeing four cards per combat. Add in extra combat? Well, you probably have way more than you need.
If you're planning on triggering this a lot, remember to pack your Karmic Guide and Miraculous Recovery with your Sun Titan — Boros reanimator is better than you'd think.
If you're interested in trying out the new Akiri which I covered last month, these sit right at home there. Or, if old Akiri is more your flavor, who will you partner her with? I love Silas Renn, personally — check out my Treasure Hunt deck.
Fall from Favor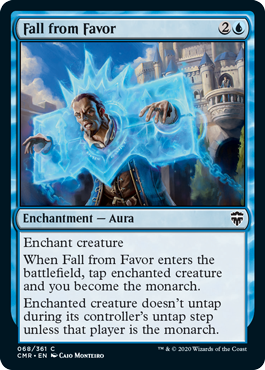 Rounding out the cheapest of the cheap, Fall from Favor is a way to introduce monarch into the game early on, while providing a great piece of interaction for mono-blue decks. The opponent's creature only untaps when they become the monarch, not when you lose it — and if they do tap it again? Well, it might not untap next turn. This will shake up Pauper, but don't dismiss it for budget EDH, either.
Budget Blitz: Commander Spotlight
As it's Commander Legends, and not an ordinary set, I thought I'd pick out a set of Commanders for budget brewing.
Green/Black has always been a solid color combination, but previously, if you wanted to build an Elves deck, it was generally helmed by Nath of the Gilf-Leaf or Meren of Clan Nel-Toth.
Both of those commanders can lead to oppressive strategies, whether in their use of hand disruption or by taking advantage of Meren's potential, and as such, always felt a little far off from the traditional "elfball" decks.
Commander Legends brings a bunch of great options on a budget. Mixing these partners around can offer a solid place to start, and if you're feeling spicier, you could even throw in Tana, the Bloodsower — Jund Elves, anyone?
Abomination of Llanowar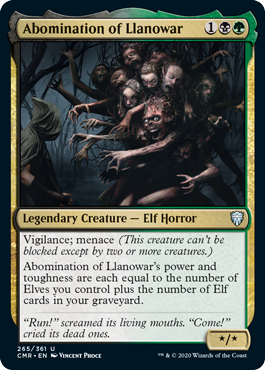 If you really want to play an elfball deck, though, try Abomination of Llanowar. It's literally a ball of elves. Gross!
All of these options are under a dollar, and even a gorgeous foil-etched copy of Tana, the Bloodsower is only $7.99 to pre-order. Elves are very affordable as a budget deck, and though some of the pricier elves and finishers — like Craterhoof Behemoth — are still expensive, you absolutely don't need those to win a game. Heck, with Jund Elves? Just put that mana into a Comet Storm.
Commander Legends is a great set, and I'm really excited to open it and get brewing. I'll be putting some packs aside to play Sealed with, and I'm already brewing around all of the new exciting cards. While it's always great to crack open money cards like Vampiric Tutor, there's a lot of power at the budget end, too, and I hope this article has shone a light on some bargains that you might want to pick up. Let me know on Twitter what your favorite budget cards are.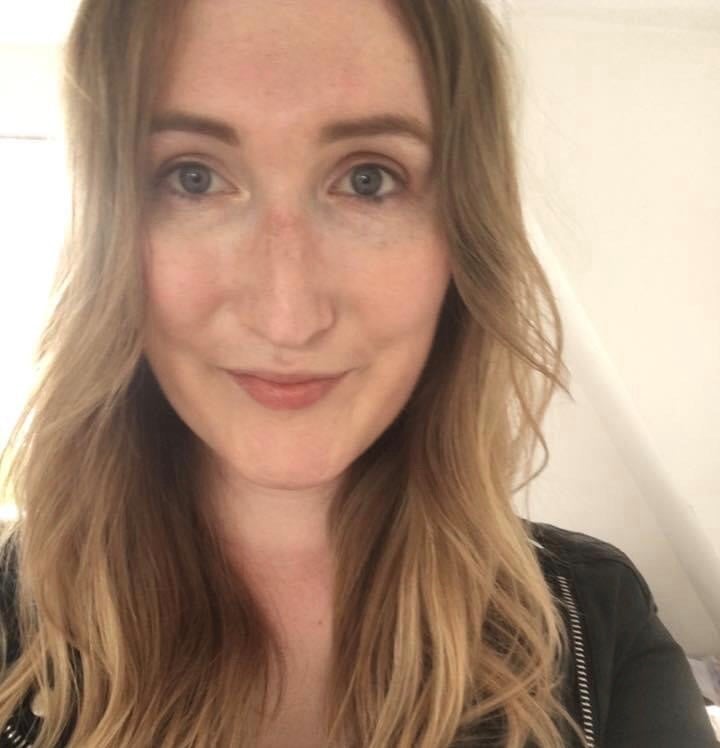 Kristen is Card Kingdom's Head Writer, and member of the Commander Advisory Group. Formerly a competitive Pokémon TCG grinder, she has been playing Magic since Shadows Over Innistrad, which in her opinion, was a great set to start with. When she's not taking names with Equipment and Aggro strategies in Commander, she loves to play any form of Limited.