Commander Legends has arrived, and it's brought back partner – a mechanic from Commander 2016 that lets you mix and match commanders. Not only are legendary creatures with partner an important part of the strategy for drafting Commander Legends, but they also present exciting opportunities to switch up your Commander deck-building strategies. In this article, we'll look at how one popular new commander interacts with some potential partners.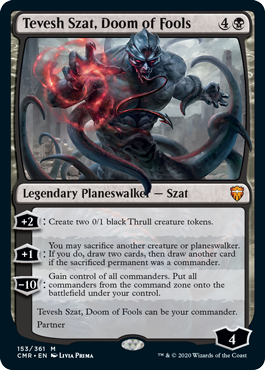 Tevesh Szat, Doom of Fools is a new card for a classic Magic character. A shapeshifting planeswalker from ancient Dominaria, Szat became bitter and angry after his sister's death and dedicated himself to getting revenge on the world. In spite of all the destruction he caused on Dominaria, he was invited by Urza to join the Nine Titans, a group of planeswalkers who were fighting the Phyrexians. Szat betrayed the Titans and tried to kill them, but Urza saw the betrayal coming and retaliated, using Szat's life energy to power the weapon he used to destroy Phyrexia.
This is Szat's first time appearing on a Magic card, and it's a great representation of his story. His plus ability creates Thrull tokens, a classic Dominarian creature type. His minus ability lets you sacrifice creatures to draw cards, with a bonus if the creature you sacrificed was a commander. And his ultimate gives you control of all commanders in the game, including the ones that are still in the command zone. Szat's ultimate effectively dismantles your opponents' strategies and gives you opportunities for yet more card advantage.
But what are you going to do with all those cards? Some of Tevesh Szat's potential partner commanders might give us some ideas.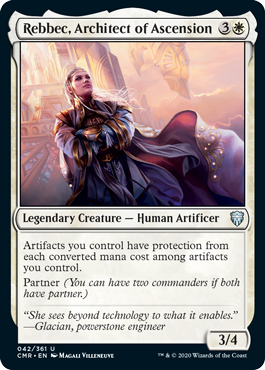 Rebbec was a Thran architect on Dominaria centuries before Szat's time. When her husband became mysteriously ill, she called on the disgraced doctor Yawgmoth to heal him, starting a chain of events which led to the destruction of Thran society and the creation of Phyrexia.
Rebbec gives artifacts you control protection from each converted mana cost among artifacts you control, so it's in your best interest to include artifacts with as many different CMCs as possible. Tevesh Szat's sacrifice ability lets you turn artifacts with duplicate costs into extra cards; these could be artifacts with different costs, powerful combo pieces, or just lots of artifact creatures that can attack without fear of being blocked, killed, or countered. Try to include as many artifacts as possible that give you value when they die, like Hangarback Walker and Myr Retriever.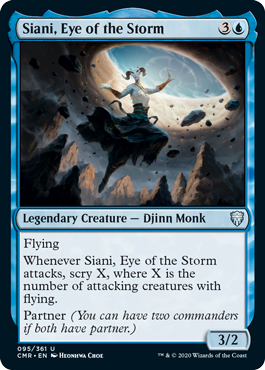 Siani is a legendary djinn monk with flying that lets you scry every time they attack, and scry more if you control more creatures with flying. You can use this scry ability to filter Tevesh Szat's card draws to find anything you need. I recommend using some of that freedom to find more flying creatures, as well as ways to protect Tevesh Szat so you can steal your opponents' commanders.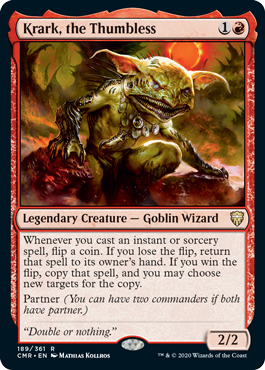 Krark was a goblin traveler on Mirrodin whose journal became the basis for a goblin religion. He was also probably a gambler, since many of the cards he's mentioned on involve flipping coins or rolling dice. That includes this new partner commander card, which adds a bit of chaos to your deck by requiring you to flip a coin every time you cast an instant or sorcery. Winning the flip lets you copy the spell, while losing returns it to your hand.
Krark plays well with other coin flip effects like Chance Encounter and Okaun, Eye of Chaos. This is also an opportunity to lean into Tevesh Szat's sacrifice ability by including some of the Aristocrats synergy available in red and black.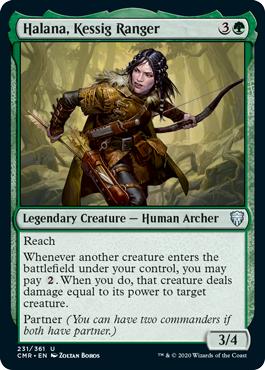 Halana is a monster hunter from Innistrad. She normally fights alongside her partner Alena, who is also in Commander Legends, but this mix-and-match environment is as good an opportunity to try new strategies for her as it is for you. Her ability lets you deal damage to a creature every time a creature enters the battlefield under your control. This plays well with Tevesh Szat's plus ability, suggesting a go-wide strategy that generates lots of mana and tokens to feed Halana's damage dealing and Szat's card draw. You'll also have plenty of opportunities to use Golgari graveyard effects to recur your token makers.
A Legendary Partnership
These are only some of the exciting mix-and-match decklists you can make with Commander Legends' new partner commanders. Try pairing them with the Commander 2016 partners – some of which have been reprinted in Commander Legends – or even making half-size decks for single partners and then shuffling them together for even more variety. Let us know which partners you're most excited to brew for!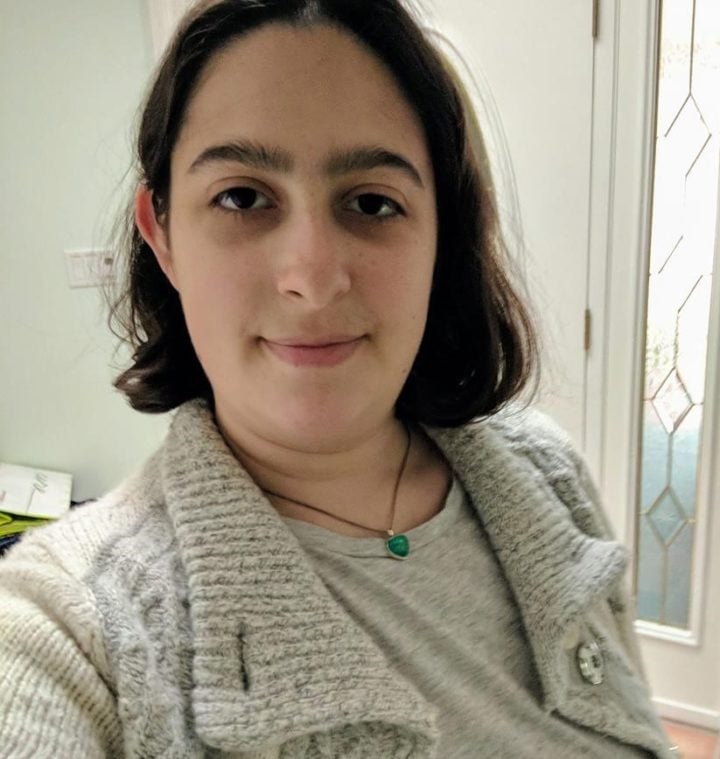 Alex is an Azorius bureaucrat who dreams of joining the Selesnya Conclave. Their favorite color of mana is green, and they love brewing for Commander variants.