Kaldheim releases on Friday, February 5th, and there are bargains to be had… if you know where to look. Kristen takes us through the cream of the budget crop, including her picks for the best budget Commanders from the set.
Every quarter, I review the latest Standard set and make my recommendations for budget cards to pick up. The series is aimed mainly at budget-conscious players, and so ignores the obvious high-ticket items like Vorinclex, Monstrous Raider, and tries to enable players to make confident low-end purchases that will have a big impact on their deck-building.
Recent budget pick-ups I've highlighted in the column include Mangara, the Diplomat and Heroic Intervention from M21, both of which have seen a noticeable uptick in price since their release. More recently, I covered Three Visits and Akroma's Will from Commander Legends; the latter has doubled in price already!
BUDGET BLITZ: KALDHEIM
As is usual for this series, I will be going over both the cheapest of the cheap — the most impactful cards you can get for pennies — and also what I dub the "five dollar shake": cards at or around five dollars.
A Note on Snow & Tribal Cards
Generally, I try to select cards for these articles that are as flexible and multi-purpose as possible. So, instead of recommending a niche card for a particular deck, I'll recommend something that fits into various strategies and still gives you bang for your buck.
For that reason, though there are some cracking snow cards in the set, I won't be focusing on them. They require a big shift in the mana base and other cards the deck wants to play from older sets, including cards like Scrying Sheets that have shot up in price.
Similarly, the set has a multitude of excellent tribal cards. From Rampage of the Valkyries and Thornmantle Striker in Theme Boosters and Set Boosters to Firja's Retribution and Skemfar Avenger in the main set — they're all fantastic bargains if you have a tribal deck, and I don't need to tell you to pick them up.
Finally, the Snow duals are something every player should be interested in. They're an upgrade over basically every other two-color tapped land, are fetchable, and in the case of the enemy color ones in particular, offer a much-needed second fetchable target after Shocklands.
BUDGET BLITZ: CHEAPEST OF THE CHEAP
First up, let's get into the real budget gems. The following cards are all pre-selling for less than a dollar, and can do a lot of work in your Commander decks.
Bind the Monster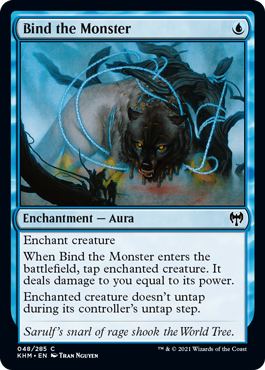 Bind the Monster is a card I can see with the potential to make a splash in multiple formats, from Pauper to Modern. In Commander, it's a solid option in mono-blue decks. While it doesn't destroy or exile, it can keep something in play without the ability to attack or use tap abilities, which there is always some call for. Imprisoned in the Moon sees play for a reason.
Ravenform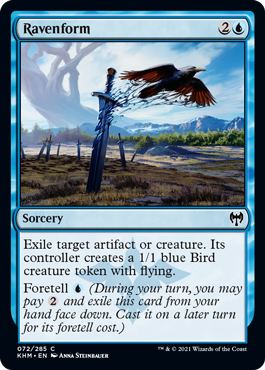 Ravenform, meanwhile, is a card I can see in even more blue decks. Being able to answer artifacts without bouncing them is a game-changer, and with the flexibility to remove a creature, too? Well, it's pretty great. Some may say that being a three-mana sorcery holds this card back, but unless you're at the most optimal tables, I think that's doing the card a disservice.
Giant's Amulet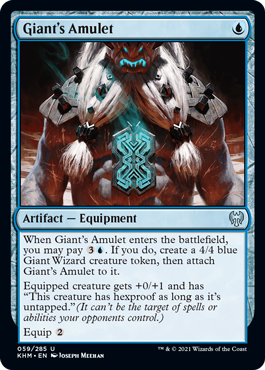 Another great blue card also available super cheaply if you fancy a foil, Giant's Amulet is, in my opinion, a bit of a sleeper. Most decks will play Swiftfoot Boots and/or Lightning Greaves, and a great many of those decks care very little about haste. Urza, Talrand, Baral… they never want to be turning sideways, and so getting the best part of protection with the option of paying more for a 4/4 token with relevant creature types? I'm into it.
That's not to mention the commanders with vigilance like Arcades and Atraxa.
Masked Vandal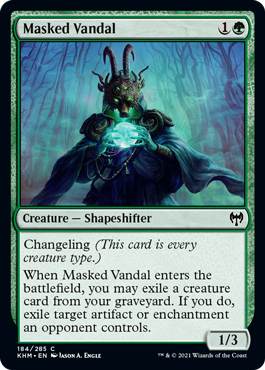 Another "card that should have been white," Masked Vandal is a solid choice for many decks. With changeling, it can slot into any tribal deck, and with the wealth of graveyard synergies in many green decks, shouldn't have too much trouble being able to turn itself on. You can flicker it, too.
The Trickster God's Heist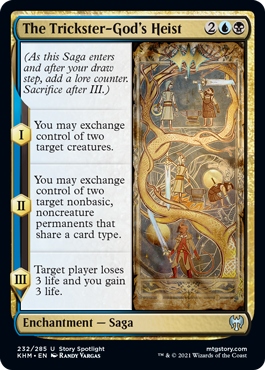 I see this card in many ways as a replacement for the reserved list Gilded Drake in more casual games of EDH. Getting two trades for four mana is great value, especially as for the second part, you will usually be swapping the saga itself for something better — like the Smothering Tithe across the table. If they hit you for the life drain, big deal. It's worth it.
Rally the Ranks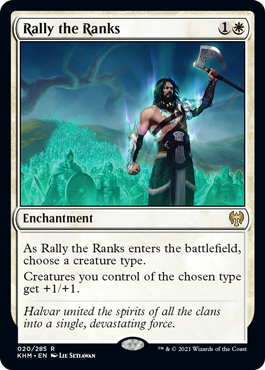 Rally the Ranks allows you to forgo the awkward choice between Intangible Virtue, Glorious Anthem and Always Watching in a dedicated tribal deck that makes tokens, and instead prioritize a two-mana option as your first pick. We have plenty of anthem effects in white, but I'd argue this one does a lot to fix the mismatch white decks sometimes have in how focused on creature cards vs. tokens they want to be.
Koll, the Forgemaster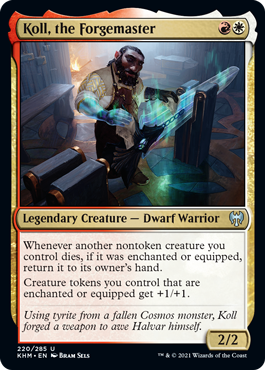 Koll is a Boros combo card, and one that offers Boros equipment decks a way to win that isn't combat damage. He can combo in many different ways, but they all tend to involve free-to-cast creatures and free-to-equip equipment. For a full rundown of how impactful Koll can be, check out this deep dive.
Uncommon Lands
Not all of the uncommon lands are created equally, and some of them have less impact in Commander; I'd rather have Ramunap Ruins than Immersturm Skullcairn, for example. Some of them are pretty great, though, and they're all under a dollar. I think Littjara Mirrorlake, Port of Karfell, Gates of Istfell and Axgard Armory are the better ones for EDH, as they are the most impactful for their activation costs, and can sit in decks that don't mind a mono-colored tapland from time to time.
BUDGET BLITZ: FIVE DOLLAR SHAKE
Now's where we get into the meatier options, with my round-up of the best cards under $5. Chances are you're not ordering your morning coffee to go at the moment, so why not grab a couple bargains instead?
Glorious Protector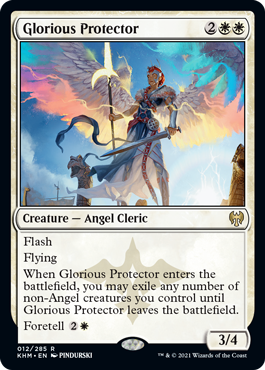 When it comes to card advantage, one of the better ways to give it to white is with powerful ways to avoid creature-based removal. If you can foretell Glorious Protector, you're in for a treat, but even just hard cast for four, it's a powerful card.
Eerie Interlude already sees play, but this angel is a little different. Instead of flickering your creatures, you'll tuck them under Glorious Protector until it leaves play. This is a great answer to removal, and as a repeatable ETB, it's a strong contender.
Magda, Brazen Outlaw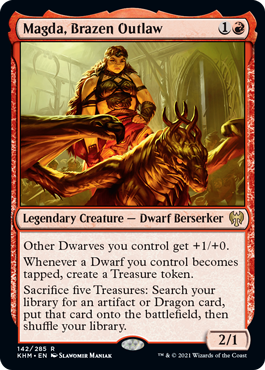 Magda is, to me, an absurdly pushed piece of tech. A lord for dwarves for two mana is already pretty okay, but when you add the other text on? This card is very, very strong. With enough ways to tap your creatures — like attacking, or crewing vehicles — you can rack up treasures in no time. You can also cash five treasures in for an artifact or dragon from your library directly into play.
That last ability is powerful, and can lend extra finishing power to treasure-based decks. It should be relatively easy to turn on, and I can't wait to try it in Gadrak, the Crown-Scourge. It's another way to tutor for Hellkite Igniter, after all.
Cosmos Elixir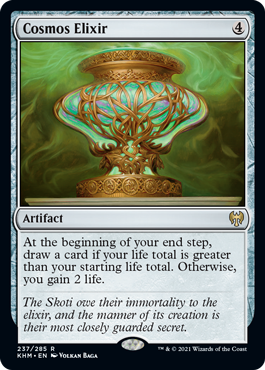 With Well of Lost Dreams going as high as $6-8, budget-conscious players may want to find an alternative for their lifegain decks. Cosmos Elixir, at $2.49, can still draw you extra cards, and when it isn't, it's contributing to many of the better lifegain payoffs for gaining X life per turn.
Battle Mammoth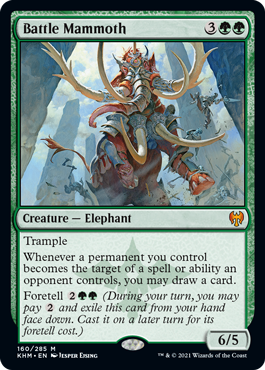 Shapers' Sanctuary has long threatened to be playable, but Battle Mammoth completely smashes down the door. A 6/5 trample for five is already good, but there's a chance it can come down for four mana when foretold. In addition, it gives you cards whenever any of your permanents are targeted — not just your creatures. This card's a slam dunk.
Haunting Voyage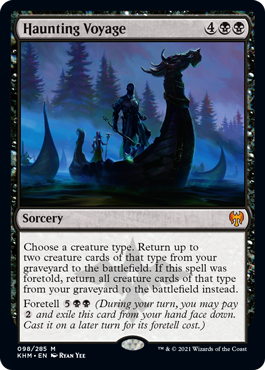 With Patriarch's Bidding a decidedly un-budget card, tribal decks in black can sometimes feel a little lacking — especially as Balthor the Defiled has slowly crept up in price. Haunting Voyage answers the call, and delivers a mass reanimation spell that requires little setup. If you can pay two mana in a previous turn, it'll cost you seven to bring back all creatures of a chosen type.
And if you can't? Well, six mana for two isn't so bad.
Toski, Bearer of Secrets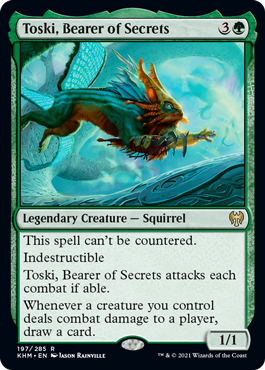 Let's all pour one out for Keeper of Fables. It's still reasonable in a cat tribal deck, but between Ohran Frostfang and the new Toski, Bearer of Secrets, green has so many good options for card draw now that it's hard to go wrong.
Toski cranks the power up by being uncounterable and indestructible. Sure, I'll take fudge sauce on my dessert.
KALDHEIM COMMANDER DECKS
Before we close things up for today, I'd like to just highlight the Kaldheim Commander decks. We'll be going in depth on the decks themselves next week, but for now, let's highlight which singles are worth picking up from these if you don't care about buying the decks. Frankly, at $44.99 for both, I'd say you're missing out, but here we are, anyways:
Cosmic Intervention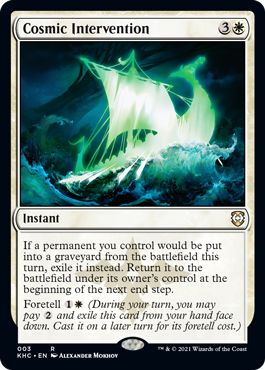 At $5.99, Cosmic Intervention is pricier than the aforementioned Glorious Protector, but it's incredibly versatile. Having this foretold offers brilliant protection from board wipes, and enables some of the more powerful mono-white strategies, including mass land destruction. Your lands will come back. 😉
It's also worth noting that, if you cast this in your main phase, the effect lasts until the end of the turn. So, if your stuff comes back into play at the end step, you can still sacrifice it again, and it'll come back at the beginning of the next end step. Aristocrats decks are going to love this!
Pact of the Serpent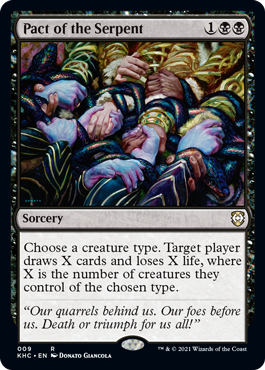 Pact of the Serpent, meanwhile, is a card-draw engine for any tribal deck with access to black. This is a huge pickup that rewards having creatures, instead of drawing for them leaving the battlefield.
What's more, it also functions as a burn spell if an opponent creates a token army, which is always a riot. For $3.99, I know I'm picking up multiples.
That about does it for this edition of Budget Blitz. There are a lot of great budget pickups in Kaldheim, and I was actually really quite surprised to see just how many of the cheap cards were highly playable. Today, we didn't even cover some of the better tribal cards, and the list was already pretty long! Let me know which budget cards you'll be grabbing from the set over on Twitter, but even if you enjoyed the article — feedback is always appreciated.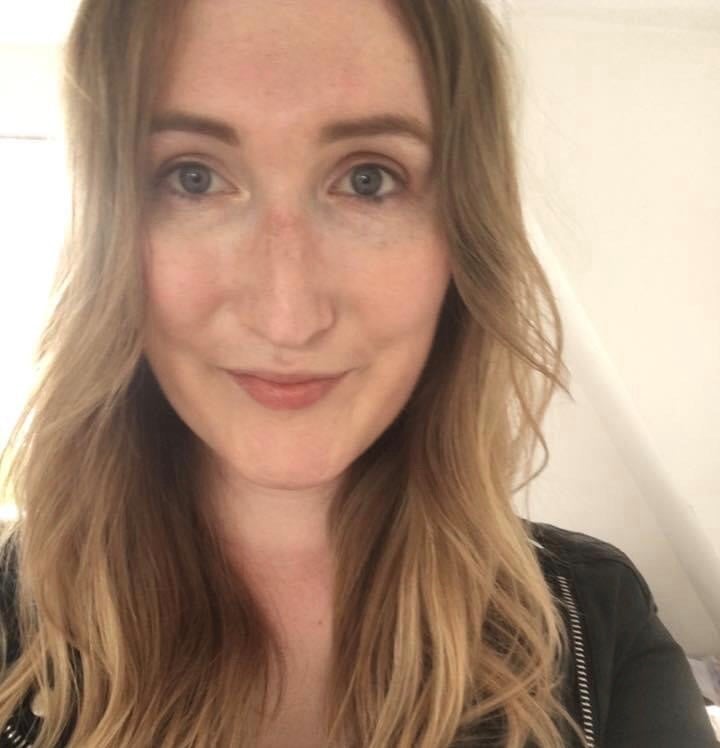 Kristen is a lover of both Limited and Commander, and can most often be found championing the Boros Legion when called upon to sit down and shuffle up. As a member of the Commander Advisory Group, Kristen lives and breathes Commander. When she's not playing Magic, she works as a freelance writer and editor in the UK.