It's the start of a new year, and as ever, we'll be seeing a new batch of Magic sets full of new cards, new art, and new characters.
The year kicks off with Kaldheim: an expansion set in a snowy, mountainous world inspired by Norse mythology. Kaldheim is home to Dwarves, Elves, Angels, and Giants — creatures of fearsome strength wielding powerful weapons.
You can preorder Kaldheim at Card Kingdom today, and the set releases on February 5th. In the meantime, we'll be collecting everything you need to know about the set here. Check out the Kaldheim teaser trailer below, and get more info after the jump.
Products
Kaldheim will feature all the same products that players have come to know with Zendikar Rising. It will include Draft Booster, Theme Booster, Collector Booster, and Set Booster packs to give players as many options as possible. We've already seen some very metal Collector Booster packaging and a Viking-themed Theme Booster, which should give us some idea of what to expect. To learn more about these different booster packs and find the one that's right for you, read our Booster Pack Guide.
Like Zendikar Rising, Kaldheim will also include two preconstructed Commander decks. Zendikar Rising's precons were beginner-friendly decks with three new cards each — including a new commander card — and the Kaldheim decks appear to follow a similar formula.
Characters & Story
On December 14, 2020, Wizards revealed the cast of characters we would meet in Kaldheim.
The face of the set is Kaya, who first appeared in Conspiracy: Take the Crown. Kaya is a highly skilled assassin known for her ability to execute ghosts; we last saw her on Ravnica, where she had taken over the Orzhov Syndicate.
Now, Kaya has arrived on Kaldheim, and she's poised to strike. Check out her new Planeswalker card: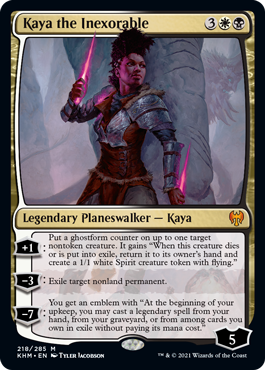 According to Wizards, the Planeswalker Tibalt will be joining Kaya on Kaldheim, as will two brand-new Planeswalkers named Tyvar Kell and Niko Aris.
Preview Cards
Official previews for Kaldheim have begun, and singles are available for preorder now at Card Kingdom. Check out the cards we've seen so far.
Pathway Lands
Kaldheim will round out the Pathway land cycle that began in Zendikar Rising. Below are the last four Pathway lands, previewed by Mastodon on December 15th.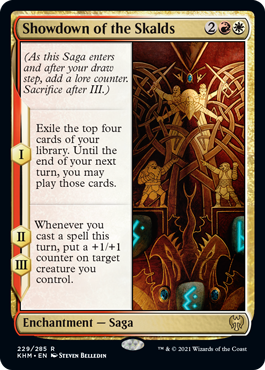 Sagas are back in Kaldheim to tell the tales of Viking heroes. Check out the first Saga revealed so far: Showdown of the Skalds! Red and white have been getting more sources of card advantage lately, and this enchantment will be a welcome addition to many Boros decks.
If the Set and Theme Booster cards from Kaldheim are any indication, creature tribes will be relevant in this set. This Birthing Pod-esque artifact will be a great addition to tribal decks, and we might even see it in Standard, Historic, or Kaldheim Draft!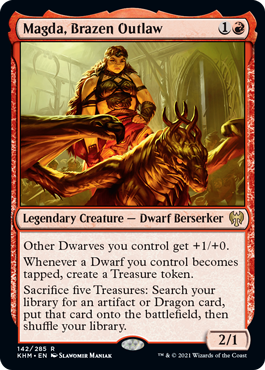 This new legendary creature gives fresh hope to any players building tribal Dwarf decks. Her synergy with Treasure tokens may also make her a major player in Commander.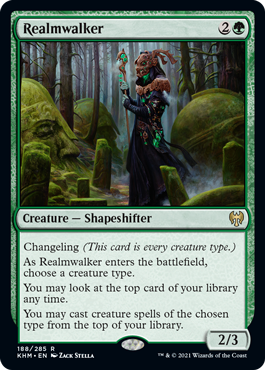 Want to get more out of your tribal decks? Changeling can help! Realmwalker can be any creature type you want it to be, and it'll make it easier for you to fill up your board with creatures.
Gods are back in Kaldheim, and this one gives us a fresh take on Modal Double-Faced Cards. Halvar can move Auras and Equipment around at will, and Sword of the Realms has incredible recursive value.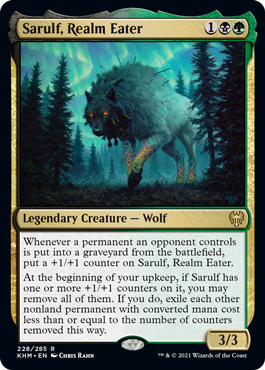 But even a God is no match for some of Kaldheim's largest creatures. Check out Sarulf, Realm Eater, revealed during the holiday break. Sarulf is best suited for multiplayer games — more creatures dying; more nonland permanents to target — but we'll be keeping an eye on it for Standard as well.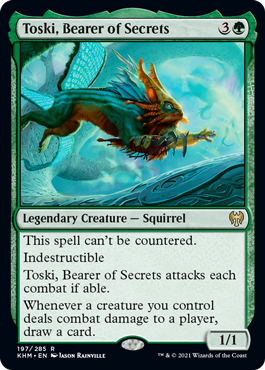 Have you ever wanted to have a Squirrel as a commander? Now you can! Toski may be small for its casting cost, but it provides green with a uniquely on-color source of card advantage.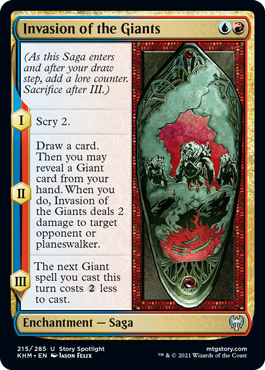 Giants in Kaldheim are based in blue and red, and this tribal-focused Saga will be of great help to you if you're build a Giants deck.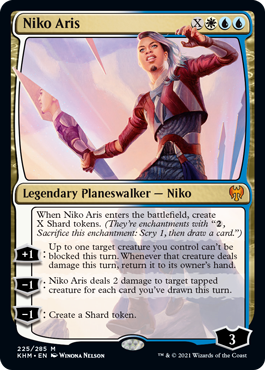 In introducing Niko Aris, the Magic story team hinted that this new Planeswalker would feature a more aggressive take on blue. Niko is certainly more combat-focused than most blue Planeswalkers, and they allow for some fun "bounce" synergies that appear to be present in Kaldheim.
Trolls are another creature type we'll be seeing a bit of on Kaldheim. Old-Growth Troll is an efficiently-costed creature that will help you ramp out even bigger threats after it dies. And like our friend Feasting Troll King from Throne of Eldraine, Old-Growth Troll will keep coming out from under its bridge again and again.
Kaldheim's Odin analogue is Alrund, God of the Cosmos and his raven, Hakka. The two sides of this card work beautifully together — Hakka can return to your hand after dealing damage and you can recast the card on the Alrund side.
Meanwhile, the Planeswalker Tibalt is clearly playing the part of Loki. On the front side, Valki, God of Lies is a disruptive early play for black decks that can shape-shift later in the game. This is the first modal double-faced card to include a Planeswalker on one side, and Wizards still has plenty of cool design space to explore in this realm.
This double-faced card is a mana-fixing God on one side and an unstoppable enchantment on the other. Either way, it'll be right at home in your five-color Commander deck.
If you need more help finding legendary creatures in your deck, Kolvori can help. The Ringhart Crest will also be useful in a tribal creature deck.
If you're playing a creature-sacrifice deck, Tergrid will be a truly scary sight to see across the table. Her lantern can also wreak havoc, especially if you have enough mana to untap it indefinitely.
Ever felt bad about sending too many attackers at a Planeswalker? Toralf will put that excess damage to good use! His Hammer will also beef up your creatures and deal damage any time you return it to your hand.
He's not quite Seedborn Muse, but Jorn's ability to untap your snow lands is a huge plus. He also notably untaps himself!
A three-mana 6/6 is a big deal, and keeping your graveyard full enough to keep Egon around isn't too hard to achieve. Throne of Death can help set Egon up for success — if you have a way to return it to your hand — and it can enable all manner of mill strategies.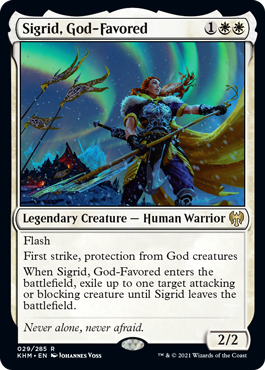 Skyclave Apparition was one of the most powerful white cards printed last year, and Sigrid is another great variation on the same theme. The combination of first strike and flash makes her a formidable blocker, and her protection from God creatures may save you a lot of damage.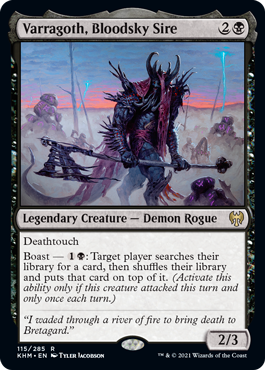 Boast is a new keyword that rewards you for attacking with creatures — regardless of whether they deal damage. Varragoth here will give you a Vampiric Tutor effect any time it hits the red zone, which is a huge effect for various formats.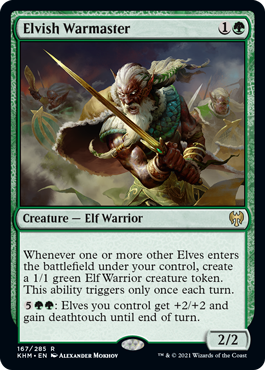 If you're into tribal Elf decks, then Elvish Warmaster is for you. This card supports the classic "go-wide" Elves strategy while also turning each Elf into a threat.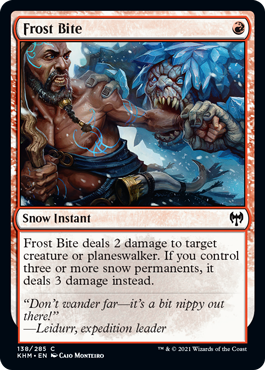 Snow is back in Kaldheim, and we'll be seeing some brand-new snow cards — including never-before-seen snow instants. While it's not quite a Lightning Bolt, Frost Bite may play a key role as creature removal for aggressive decks.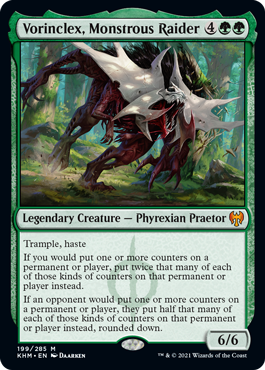 Hey, what are the Phyrexians doing on Kaldheim? Vorinclex isn't just invading new planes — they'll bust down the door the moment they hit the battlefield. Vorinclex will also benefit your Planeswalkers while putting your opponents' in jeopardy.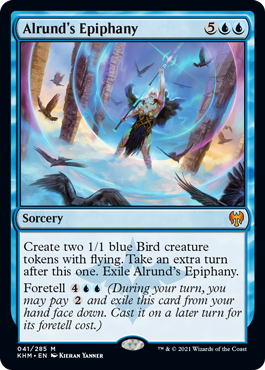 "Time Squawk" — as the Magic comms team has christened it — may be a big deal for controlling blue decks. As we saw with Battle for Zendikar's Part the Waterveil, any "extra turn" effect that gives you a creature to attack with is an asset to a "Taking Turns" deck.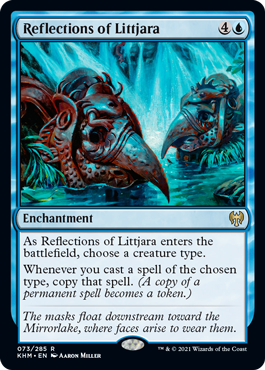 Tribal synergies abound in Kaldheim, and this card will help you take advantage of them even more.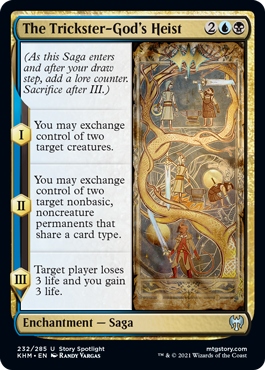 This saga tells the story of Tibalt's trickery, and it'll allow you to make some mischief of your own on the battlefield. A four-mana uncommon that allows you to exchange control of cards twice is bound to make a splash in both Limited and Constructed.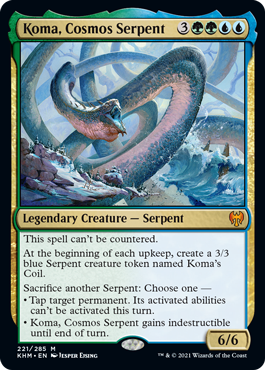 We've seen no shortage of powerful blue-green cards in the past two years, and Koma, Cosmos Serpent is no exception. This sneaky snake will evade your opponents' counterspells and give you a formidable board presence — especially in multiplayer games!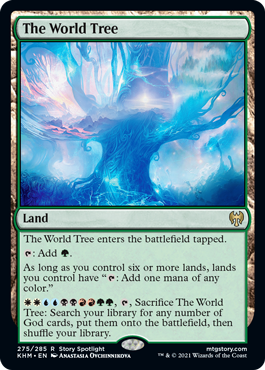 The World Tree is the center of Kaldheim, and it can be the centerpiece of your God-themed deck! Ramp up to six lands and you'll be able to take over the board in no time.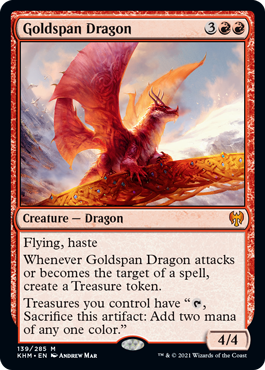 Kaldheim's take on the five-mana red dragon is a must-have for a Big Red ramp strategy. Goldspan Dragon will give you the mana to cast bigger and bigger spells each time it attacks, and your opponents will have to pay a price to remove it, too.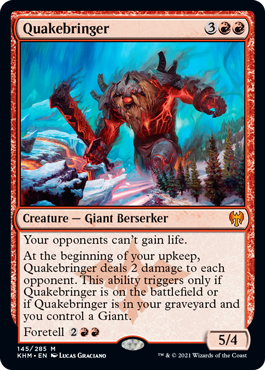 Meanwhile, the Giant tribe has a fearsome five-drop of its own. Quakebringer will deal plenty of damage to your opponents, even if it's in your graveyard!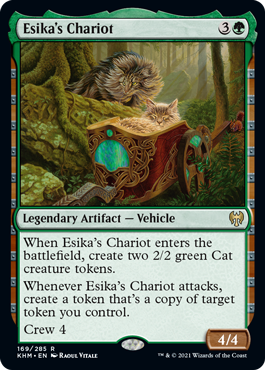 The current frontrunner for Cutest Card in Kaldheim, Esika's Chariot is a must-have for any tribal Cat deck.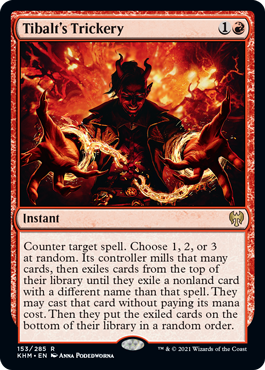 You thought you were resolving one spell, but you're resolving another instead! This distinctly red counterspell will let you unleash chaos in your games.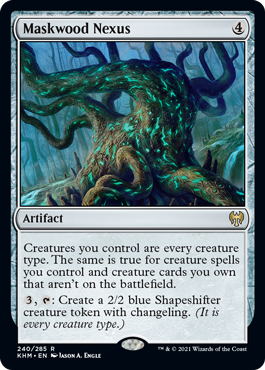 Many have already noted this card's synergy with The World Tree, and it's a slam dunk in a tribal Commander deck.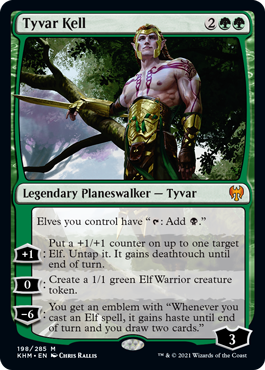 Our final Planeswalker in Kaldheim is Tyvar Kell — an Elf-centric Planeswalker card to rival Freyalise. While his starting loyalty may be low, Tyvar has many ways to protect himself and gives Elf decks even more mana to make use of.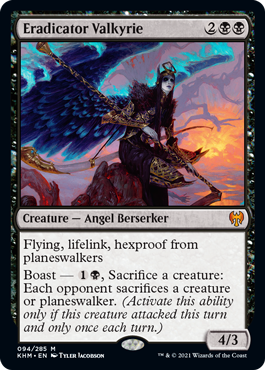 Magic has been printing more foils to Planeswalkers, and Vorinclex isn't the only one in Kaldheim. Eradicator Valkyrie is untouchable by Planeswalker abilities, and in the right deck, its boast ability will help get 'walkers off the table.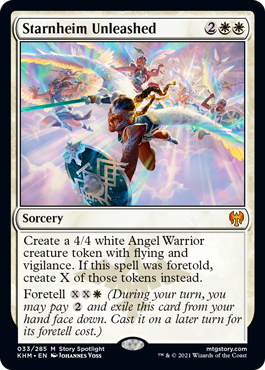 Foretelling spells has all kinds of benefits, including protection from discard spells and a more manageable mana investment. But some, like Starnheim Unleashed, have even bigger effects when you foretell them. If filling the board with huge flyers is one of your favorite strategies, give this card a try.
Coming February 5th!
Ready for Kaldheim? Here's what you can do: