Urza was the talk of the town during the StarCityGames Open in Columbus this past weekend — and, given the deck's recent performance, that's to be expected. But if you were watching closely, the biggest new development of the tournament was Sultai Titan. As Modern has evolved, the Amulet Titan decks have evolved with it. 
Before we look at Sulati Titan, let's look at how we got here.
Amulet Titan
Amulet Titan by Matt Dilks/Will Pulliam, 2nd place at SCG Columbus
4 Primeval Titan
4 Sakura-Tribe Scout
4 Azusa, Lost but Seeking
2 Forest
1 Snow-Covered Forest
1 Bojuka Bog
1 Boros Garrison
2 Breeding Pool
4 Castle Garenbrig
2 Cavern of Souls
1 Field of the Dead
1 Gemstone Mine
1 Ghost Quarter
1 Golgari Rot Farm
1 Gruul Turf
1 Radiant Fountain
1 Selesnya Sanctuary
4 Simic Growth Chamber
1 Slayers' Stronghold
1 Sunhome, Fortress of the Legion
2 Tolaria West
1 Vesuva
1 Wooded Foothills
4 Amulet of Vigor
1 Engineered Explosives
4 Once Upon a Time
1 Pact of Negation
4 Summoner's Pact
4 Explore
SIDEBOARD
1 Engineered Explosives
1 Ramunap Excavator
1 Reclamation Sage
2 Tireless Tracker
3 Dismember
1 Force of Vigor
3 Mystical Dispute
1 Field of the Dead
1 Radiant Fountain
1 Tectonic Edge
Amulet Titan has been Modern's best Primeval Titan deck for a long time. Through 2018 and most of 2019, Modern had a shorter average game length than it does now, which made a fast combo kill attractive. Unlike most combo decks, Amulet Titan had the ability to morph into a midrange deck that could go toe-to-toe with the interactive decks; in fact, Amulet was heavily favored against them. The lack of a solid Wasteland effect in Modern means interactive decks can't cleanly answer Field of the Dead, and they'll struggle even more if they try and grind through it.
While Dilks and Pulliam still prefer the Amulet build of the deck, a good portion of the community has started to move toward "Amulet-less" Titan. Modern has slowed down as the midrange Urza decks have taken over, so the Amulet of Vigor combo is no longer necessary. What Simic Titan gives up in explosiveness, it makes up in consistency and resiliency. 
Simic Titan
Simic Titan by Zach Boblitt, 16th place at SCG Columbus
4 Arboreal Grazer
4 Primeval Titan
1 Ramunap Excavator
3 Sakura-Tribe Scout
1 Tireless Tracker
4 Oko, Thief of Crowns
2 Forest
1 Island
1 Snow-Covered Forest
1 Snow-Covered Island
1 Blast Zone
1 Bojuka Bog
2 Breeding Pool
4 Castle Garenbrig
2 Cavern of Souls
3 Field of the Dead
1 Ghost Quarter
4 Misty Rainforest
1 Radiant Fountain
3 Simic Growth Chamber
1 Tolaria West
1 Waterlogged Grove
1 Westvale Abbey
4 Once Upon a Time
1 Pact of Negation
4 Summoner's Pact
4 Explore
SIDEBOARD
3 Damping Sphere
1 Obstinate Baloth
1 Reclamation Sage
2 Disdainful Stroke
3 Dismember
3 Mystical Dispute
2 Veil of Summer
Simic Titan's ability to ramp with spells like Arboreal Grazer and Explore smooths out the mana development compared to the traditional bounce-land-heavy builds. Simic Titan also leans on Field of the Dead to close games, sporting three main deck copies instead of the usual one found in the Amulet builds. Urza, Death's Shadow, and Bant Snow all struggle to deal with a constant stream of zombie tokens, making Field of the Dead an attractive win condition when Primeval Titan may not be enough. With four copies of Oko, Thief of Crowns, Simic Titan looks much more like a big midrange deck than the lean combo deck it once was.
Now that we have seen the big change from the punishing Amulet Titan to the grindy Simic Titan, we're ready to get into the latest development: Sultai Titan.
Sultai Titan
Sultai Titan by Zach Allen, 1st place at SCG Columbus
4 Arboreal Grazer
1 Craterhoof Behemoth
3 Elvish Rejuvenator
4 Primeval Titan
3 Sakura-Tribe Scout
3 Oko, Thief of Crowns
2 Forest
1 Island
1 Swamp
2 Snow-Covered Forest
1 Snow-Covered Island
1 Bojuka Bog
1 Breeding Pool
4 Castle Garenbrig
3 Cavern of Souls
1 Field of Ruin
3 Field of the Dead
3 Misty Rainforest
1 Overgrown Tomb
1 Radiant Fountain
2 Simic Growth Chamber
1 Tolaria West
1 Verdant Catacombs
1 Vesuva
4 Once Upon a Time
4 Summoner's Pact
4 Explore
SIDEBOARD
2 Tireless Tracker
4 Assassin's Trophy
2 Dismember
2 Mystical Dispute
2 Veil of Summer
2 Ashiok, Dream Render
1 Oko, Thief of Crowns
You'll notice two major main-deck differences between Simic and Sultai Titan: additional ramp (Elvish Rejuvenator) and a way to go over the top in the Field of the Dead mirrors (Craterhoof Behemoth). Zach Allen has a focused plan with this build: ramp to Primeval Titan, find Field of the Dead, and win the game with a horde of zombies. 
The other upgrade Sultai Titan gets is a set of Assassin's Trophies in the sideboard. Trophy is a clean answer to Field of the Dead in the mirror, and it also deals with Blood Moon and Ashiok, Dream Render, which are both problematic. Having your own copies of Ashiok will allow you to break the mirror open while disrupting fast graveyard decks like Crabvine.
We now know why and how these Primeval Titan decks evolved, so let's take a look at how they fit into the Modern metagame.
Good Match-ups
Primeval Titan decks have historically done a good job of exploiting interactive decks in Modern. They can go over these decks with Primeval Titan, invalidate single-target removal spells with Field of the Dead, and blank counterspells with Cavern of Souls.
Sultai Titan is also one of the few decks in Modern that can truly boast a good match-up against the various Urza builds. (I'd say the deck is only slightly to moderately favored, but that's about as good as any deck can be against Urza.) However, it is worth noting that if the Urza decks evolve to rely more heavily on combos again, Sultai Titan will struggle against them. 
Sultai Titan also has good match-ups against some of Modern's other major players. Bant Control/Stoneblade can't effectively answer everything that Sultai Titan brings to the table. Death's Shadow can sometimes end the game quickly with Temur Battle Rage, but Sultai Titan can easily punish the deck's slower draws. Eldrazi Tron also has a tough time beating Sultai Titan —  Primeval Titan outsizes the Eldrazi, and Sultai Titan doesn't much care about Chalice of the Void. 
Bad Match-ups
Sultai Titan's biggest weakness is that it can't always play defense in the early game. If you want to exploit this deck's weaknesses, it's best to have a non-combat damage combo and to present it quickly.
The third-place team in Columbus included two Storm players, and if I had to venture a guess, they likely beat up on both Sultai Titan and Urza for most of the tournament. Storm has the ability to produce turn-three kills relatively often without needing to worry about attacking, so Sultai Titan can look pretty frail on the other side of the table. 
Sultai Titan can also fall prey to some damage-based decks, including Infect and Mono-Red Prowess. Infect can easily win on turn three and get in under Sultai Titan's defenses. Mono-Red Prowess may look weak to a deck with a bunch of Oko's, but sorcery-speed interaction isn't always useful against Monastery Swiftspear and burn spells. If you're planning on picking up Sultai Titan, you'll want to have a good plan for these match-ups.
I, for one, am interested to see if and how these Titan decks evolve for SCG Knoxville and MagicFest Austin this weekend. If you have any ideas on what may happen, I'd love to hear them on Twitter at @RappaciousOne.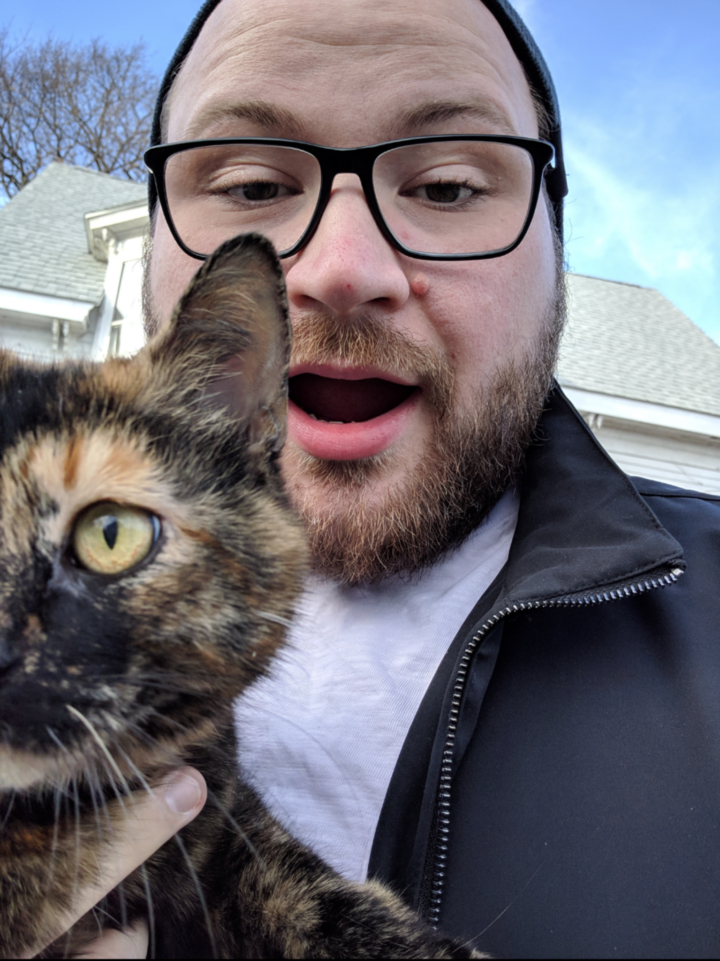 Michael Rapp is a Modern specialist who favors Thoughtseize decks.  Magic sates his desire for competition and constant improvement.