We've covered dozens of Magic: The Gathering mechanics in this series this year. Over the past several months, we've helped new players understand the building blocks of Magic and the latest additions to the game's lexicon. We even gave a lesson on banding!
As we ring in the new year, we wanted to cover another Magic keyword that many new players puzzle over. A keyword by which all other Magic keywords are judged.
Storm count is at 1.
What is Storm?
Storm is one of the most powerful Magic mechanics ever created. In fact, Magic designers often grade other mechanics according to what they call The Storm Scale: how powerful is the mechanic on a scale of 1 to storm?
Storm is a triggered ability that appears on instants and sorceries. When you cast a spell with storm, you copy the spell for each other spell that has been cast during the turn (usually referred to as the "storm count"). That includes any spells your opponent may have cast that turn. You can choose new targets for the copies if you wish.
What makes storm so powerful is that each copy of the spell then needs to be countered individually if you don't want the effect to happen. Even if the original spell with storm gets countered, storm triggers when the spell is cast, so all the other copies will still go on the stack. The only way to stop storm is with Stifle-style effects, which counter the storm ability itself.
Playing with Storm
Storm decks are popular in Magic's Modern and Legacy formats, and it's a common archetype in many powered Cubes. The goal of any Storm deck is to generate a high storm count as quickly as possible, then cast spells with storm that will whittle down your opponents' life total.
Legacy Storm decks rely on the card Tendrils of Agony to get the job done. Since each copy of Tendrils takes two life away from your opponent, a storm count of around ten will usually get the job done. Since Tendrils isn't legal in Modern, Modern Storm decks utilize Grapeshot instead, with Empty the Warrens as a backup plan.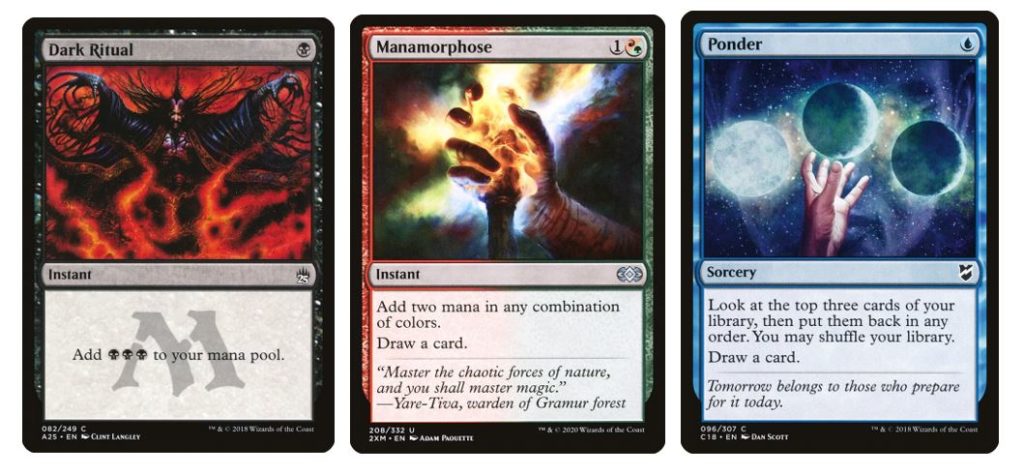 So, how do you get your storm count high enough to win? Storm decks load up on two kinds of cards: cantrips and rituals. Cantrips are spells with low mana costs that draw cards (you can learn more about them here); rituals are spells that generate mana. If you can build up enough mana by chaining together rituals and cycle through your cantrips, you can easily cast enough spells in a turn to win.
LEARN MORE!
Check out the rest of our keyword ability primers:
Banding
Cascade
Companion
Crew
Cycling
Deathtouch
Defender
Enchant
Encore
Equip
First Strike & Double Strike
Flash
Flying & Reach
Haste
Hexproof
Indestructible
Kicker
Lifelink
Menace
Mill
Mutate
Partner
Phasing
Prowess
Prowl
Trample
Vigilance